تاریخ:جمعه 18 دی 1394-08:54 ب.ظ
E-learning and Online Classes, Good or Bad?
By the improvement of technology, it has affected all aspects of our life. Universities and schools are affected by it too. Traditional classes are being replaced by online classes quickly. But is it good or bad? Lots of experts think that it can be useful, enjoyable, and less time consumer; but I think that they can't be as effective as traditional classes. At this passage I will investigate the usage of online classes and also traditional ones.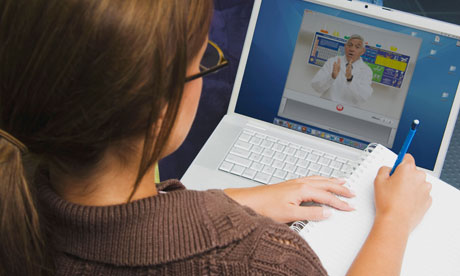 Those who agree with online classes believe that these classes can be more enjoyable. They might be right but there's no friend or classmate next to you like traditional ones. As the speed is very high on the internet so transferring the data is easy and quick. But in traditional classes since the teacher must write the points on the board, so lots of time is wasted for writing. Although it can be right but nothing can replace the class environment.
In traditional classes there's a very good competition between the students. They always try to do their best to win the top student title while in online classes there's approximately no competition between the students. Competition makes the students motive. Motivation is another important factor which is a result of competition. The school environment and school friends can help the student a lot to improve. Traditional classes' communication is interactive which is really significant. Besides; in traditional classes you can find lots of new friends. Lots of good memories would be made. Students are more responsible in traditional classes. The students will learn how to communicate other people and the school prepare them to enter the society. Another disadvantage of e-learning is that there are lots of different applications that can distract the student completely.
Another significant issue that should be discussed is economical problems. There are lots of students who don't have access to the internet. They have to spend money to buy at least a personal computer. Furthermore the internet speed is very slow in some parts of Iran and is not good enough even for downloading. Also lots of teachers and students do not know how to use their computers and internet.
In conclusion; traditional classes should not be removed. Because its advantages and usages are a lot enough. Online classes can be good when it comes as the second part not to be as the main class. Teachers and students can use the internet facilities to communicate each other at the time they are home. For example; they can make a weblog to put their activities there. Online classes itself can not be as useful as traditional classes.